Dramatic changes in UK shopping habits have been uncovered by a Savoo and Affiliate Window survey. Since 2009 there's been an increase of nearly 40% in shoppers seeking out discounts on the web. The most popular have been restaurants rising from 51% in 2009 to 62% along with clothes and shoes, which were up 12% from 32%.
Women were the most likely to use a discount code or coupon in supermarkets with 85% hoping to bag a bargain. Strange behaviour considering the clichéd stereotype pinned to Britons is that of a polite, stiff upper lip-type culture. Yet 80% of respondents let slip about not being embarrassed about making a saving on items purchased compared to 70% two years ago.
Discounts now expected
Results from affiliate network, Affiliate Window, confirmed consumers are beginning to expect discounts, a notion advertisers are reacting to. Even a free delivery code is seen as a bare minimum for many shoppers. Orders with free delivery often average 30% higher than those without.
Simon Bird, General Manager of Savoo, is under no illusion that Britons are now knee-deep in a coupon culture, which is showing little sign of peaking. "This research shows how the UK is a nation of savvy shoppers using voucher codes and deals to get the best prices all the time with grocery prices, understandably being top of the agenda," he said.
Savoo has provided an infographic detailing more of the interesting findings from the research it collaborated on with Affiliate Window.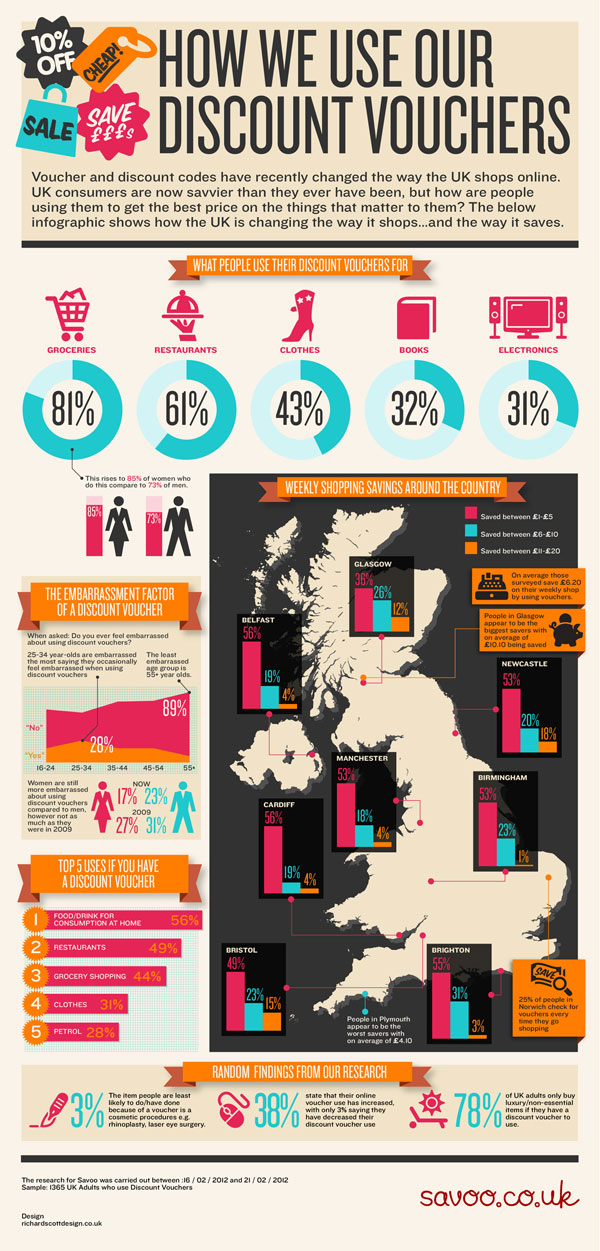 Produced by Savoo.co.uk
Continue the conversation