After a few conversations at affiliate events with mystical 'super affiliates' I can confirm that many of you have been approached to take part in the Secret Millionaire tv series. All but one of you have turned it down so far;
Fair play to Mr Pearson for doing this, although with his appearances on Working Lunch, BBC News, Sky News - your millionaire status isn't such a secret!
Also - thanks to the 8 people who sent a screenshot of this to my inbox, seems as though you all want to be reporters eh :)
In Other News
The IAB have rescinded the Voucher Code Guidelines on the condition that 20% of the Voucher Code site's profits are donated to the IAB. It has to be read to be believed...
Did You Know?
a4uAwards Account Manager Nominee Darren Newmark used to be a club singer, and was recently featured on the ITV series Benidorm!?
Affiliate Lookalikes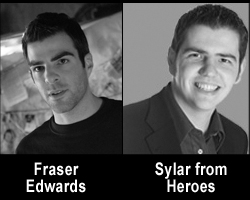 Thanks to Shane Robinson and Clarke Duncan (yes, him again) for the above lookalikes.
Anyone else think that Neil Mitchell looks like Hugh Jackman, or is it just the small sideburns!?
It turns out that while digging for Affiliate Lookalikes we were directed to Greg Endean, Key Accounts Team Leader for Affiliate Window, who is actually a lookalike for Jamie Oliver!
Visit his website to see a photo of Jamie Oliver* scoffing a BK!
*Greg Endean
And Finally
Joshua James. Someone who has been around in the industry for quite a while has ditched Affiliate Marketing to become a full-time lookalike for fashion guru Gok Wan...
Note to Self: Remember to wear suitable footwear at next affiliate event, you're probably going to need them!
Continue the conversation